Mechanical Engineer James Wade returned to the track this month as the new racing season got underway.
This year, the Hawkins team started the season with a change in the fleet. Principal Associate Charles Murdoch will continue competing in the CRMC on his classic Honda K4 250 and 350 motorcycles, but James has hung up his motorcycle racing helmet and instead picked up his car racing helmet. This year he will be campaigning an MG ZR 170 in the Lancaster Insurance MG Owners Club Championship.
The field is made up of several classes of MGs from classic MGBs of the 1960s through to more modern MG ZR, ZS and TF of the 2000s. The series visits Brands Hatch, Snetterton, Castel Combe, Thruxton, Donington Park, Silverstone and finishes with a double header at Pembrey, South Wales in October.
The first event took place on Sunday 9th April at Brands Hatch, which consisted of a qualifying round and two subsequent races. This was James' first ever race and promised to be a baptism of fire as Brands Hatch is notorious for close racing and first corner contact.
James qualified by coming in 8th out of 25 on the grid in his MG ZR, which was an impressive start given the experienced field of drivers he was competing against.
In Race 1, James got off to a slow start, losing ground before picking his way past several cars, aided by some contact towards the front of the field. James moved into 5th position with two laps to go, but an ill-fated attempt to overtake around the outside at Clearways Corner saw him put two wheels into the gravel and lose momentum onto the start finish straight. He was passed by several cars and ultimately finished 8th, right back where he started.
Race 2 and again James lost places off the start line. This is clearly an area to work on. However, he overtook several cars finishing 6th before an infringement by another driver saw James promoted to 5th overall, capping an all-round excellent race weekend.
The next round is on Sunday 14th May at Snetterton in Norfolk. The event is live streamed on the BARC YouTube channel.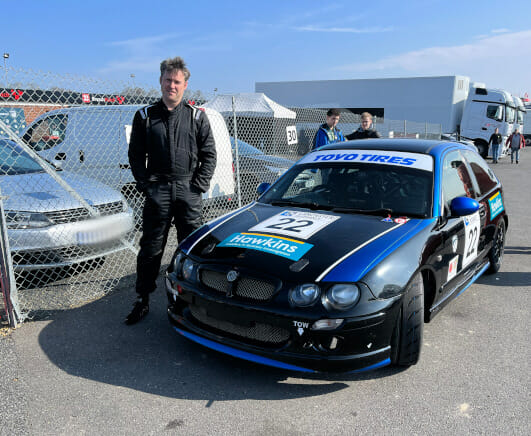 About the Author
James is a Principal Associate in the Reigate office and conducts Road Traffic Accident (RTA) and engineering investigations, specialising in collision investigation.
James has been trained in the use of the Bosch CDR tool, which can be used to download crash data from some modern vehicles. This data can include information on vehicle speeds, brake and steering application, impact direction and severity, occupancy, airbag deployment and seatbelt usage. All of which can assist in the reconstruction of road traffic collisions.
If you are looking for a collision expert or would simply like more information about racing, feel free to contact James directly.