John Holland, Regional Manager of Hawkins' Glasgow office, has given webinars on Vehicle Fires to motor claims teams at insurance companies in the UK over the past few months. If your office would like to see a presentation on this, or any other engineering topic, please contact Hawkins.
An absolute must when avoiding vehicle fires, is for any driver to check that the vehicle is safe to drive. UK Government regulations state that the duties of a motorist include:
It is also important to note that vehicle can be unsafe even if it has received an MOT certificate. Your vehicle's handbook will tell you how often to check the engine oil, coolant, screen-wash, brake fluid levels, and battery, as well as the pressure, tread depth and overall condition of your tyres.
The UK Government Highway Code is also an invaluable resource, which states that if your vehicle breaks down, it is necessary to think first of all other road users and get your vehicle off the road, if possible. If your vehicle develops a problem, leave the motorway at the next exit or pull into a service area; if this is not feasible, pull onto the hard shoulder and stop as far to the left as possible.
For more information on motorists' duties and the Highway Code, you can visit these resources:
Of all motor issues and incidents on UK roads, how big a problem are vehicle fires? From 2018 to 2019 there were 21,918 reported vehicle fires, 53% of which were recorded as "accidental." The Driver and Vehicle Standard Agency (DVSA) also maintains a vehicle recall database, which notes that 773 recalls between the years 1992 and 2019 were associated with a risk of fire.
Common Causes of Vehicle Fires Can Include: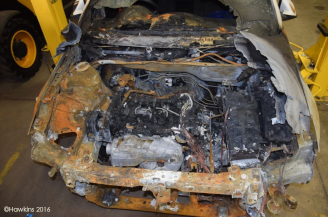 Many of these potential causes of fire may already be notable concerns for responsible drivers who work to maintain a roadworthy vehicle. However, it is important to consider less obvious means of ignition.
Combustible objects can even be left in the engine bay by technicians working on a vehicle at a dealership or garage. It is important to have your vehicle serviced by a reliable source. John has seen an incident in which a vehicle's fuel line was fracturing during the replacement of its turbochargers. Though a new spill return line was fitted, and the vehicle was test-driven without any issue, a fire still occurred. Not only was tissue paper found in the engine compartment (probably used to clean up spilt fuel), but also an 'r' clip had not been fully inserted.
Emerging technologies in the automotive field, such as more efficient engines with higher temperatures and higher fuel pressures, as well as hybrid vehicles with high voltages and more conductors carrying high currents, can also result in heating or electrical faults. It is important to remember to maintain your vehicle, keep it roadworthy, and never ignore warning lights – no matter how new or innovative it may be.
As with most forensic investigations, engineers are more likely to be successful in determining the cause of the incident if they attend the scene, or examine the vehicle, as soon as possible after the fire has occurred.
An Intel scholar, John graduated with a 1st Class Honours Degree in Mechanical Engineering from University College Dublin, Ireland in 2000. As part of his degree he developed an automatic moisture sensor for use in the peat industry for which he was awarded the Hewlett Packard national award for innovation in engineering.
John has a detailed knowledge of the health and safety regulatory framework in the UK and of how relevant regulations apply to the design, development, provision and use of plant and machinery in industry. Since joining Hawkins, he has investigated over 700 incidents, ranging from small domestic losses to major and complex incidents involving serious injuries and fatalities. He has produced expert reports for Pursuers and Defenders and has given expert evidence in the Court of Session and in the Sheriff Courts. He has also been appointed, via the National Crime Agency, to assist Police Scotland in criminal investigations and has prepared reports for criminal defence lawyers. He is known for his attention to detail, his pragmatic approach, and his ability to explain complex engineering matters in a way that is clear and easy for non-technical readers to understand.
More information about John's expertise can be found here.