In the last few years there has been a change in bulk cargo ship design relating to Australian ladderways. The ships we have seen were all built in China, with the Australian ladders built as partially enclosed box sections (see Photograph 1, below).
Building the ladderways as box sections provides increased protection for crew members and stevedores, helps prevent mechanical damage during loading and discharge and usually reduces ship construction time. Given that the Australian ladders are now partially enclosed, lights are fitted inside to help prevent injuries and comply with health and safety regulations (Photograph 2).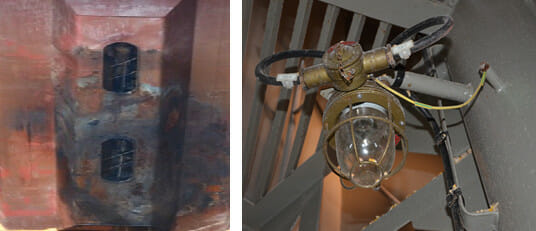 However, lights and bulk cargoes are not a good combination. Hawkins have recently seen a number of new build ships (both Panamax and Handymax) where lights have been fitted in the ladderway, but no instructions have been given to the crew on isolating the lights when loading cargo.
Hold lights left on are a source of heat and can lead to ignition of a bulk cargo (wheat, soybeans, coal etc). Hawkins have dealt with a number of fires in quick succession that involved hold lights igniting the cargo. The recurring theme in these incidents is the crew failing to isolate the lights or not knowing that lights were fitted in the hold. This has been happening on newer ships as, historically, bulk cargo vessels have not been fitted with hold lights.

It is essential that hold lighting systems are isolated before loading bulk cargoes, ideally by removing the fuses or the Chief Engineer marking and isolating the relevant circuit breakers. Failure to take these measures can put both the ship and cargo in danger.